We are located in the village of Sedgwick, Maine, 7.5 miles south of the junction of Route 172 and Route 15 in Blue Hill. Follow Route 172 toward Sedgwick and we are on the right hand side just after the intersection of Route 172 and Old County Road.
The Granite Shop owner Steve Thoner is a contractor who has built many fine homes in the area. Office manager Raine Brill oversees the office as well as yard operations and is happy to answer any questions you might have.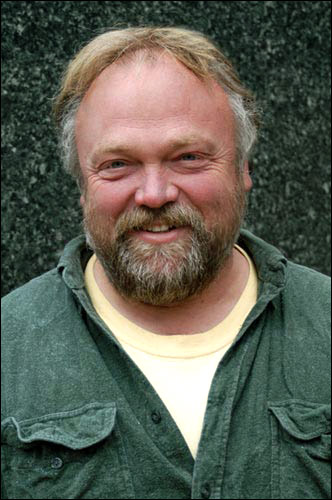 Come by the yard and hand pick your stone. Each slab of granite and marble is unique and has it's own individual characteristics and color variations. You may want to bring samples of your cabinet wood, floor tile, or any items you will want to coordinate your stone with before making a purchase.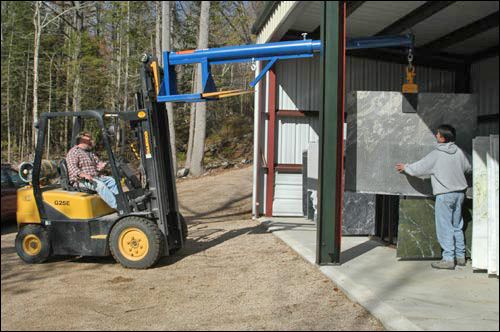 We're happy to pull slabs out of the stacks so you can see every inch of the entire slab before making your selection. We have new inventory arriving daily, and are sure to have the perfect stone to fit your countertop, home building, and decorating needs.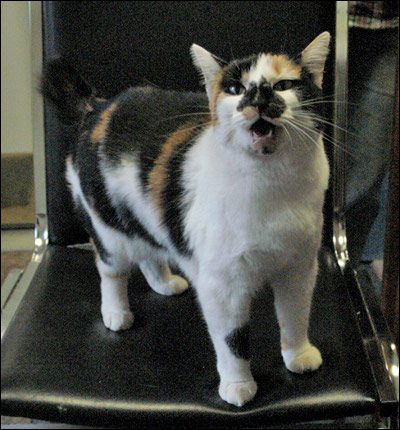 We're sad to tell you that our famous yard cat "Yawlie" is no longer available for consultations. Yawlie was known to have an opinion about everything and wasn't shy about letting you know what she thought, but she's gone to that great granite yard in the sky where the kitty dishes are always full and every window has sunshine streaming in.
Raine shows our newest crew member, "George" the ropes.
As you can see, George is a bit nervous about stepping into such big paw prints.